Providing Environmentally Friendly Housing and Services
Initiatives to Increase ZEH Rate
YAMADA HOMES is seeking to provide eco-friendly housing and services such as improving heat insulation and adopting advanced energy-saving equipment and solar powers to make zero emission homes (ZEH) more widely known. At the same time, the Company aims to protect the global environment and realize a comfortable and prosperous life for Group customers by promoting a lifestyle that does not waste energy. The YAMADA HOLDINGS Group has set a goal of increasing the ZEH rate to 50% of all homes sold by YAMADA HOMES by 2025, thereby actively working to make emission-free homes more widespread.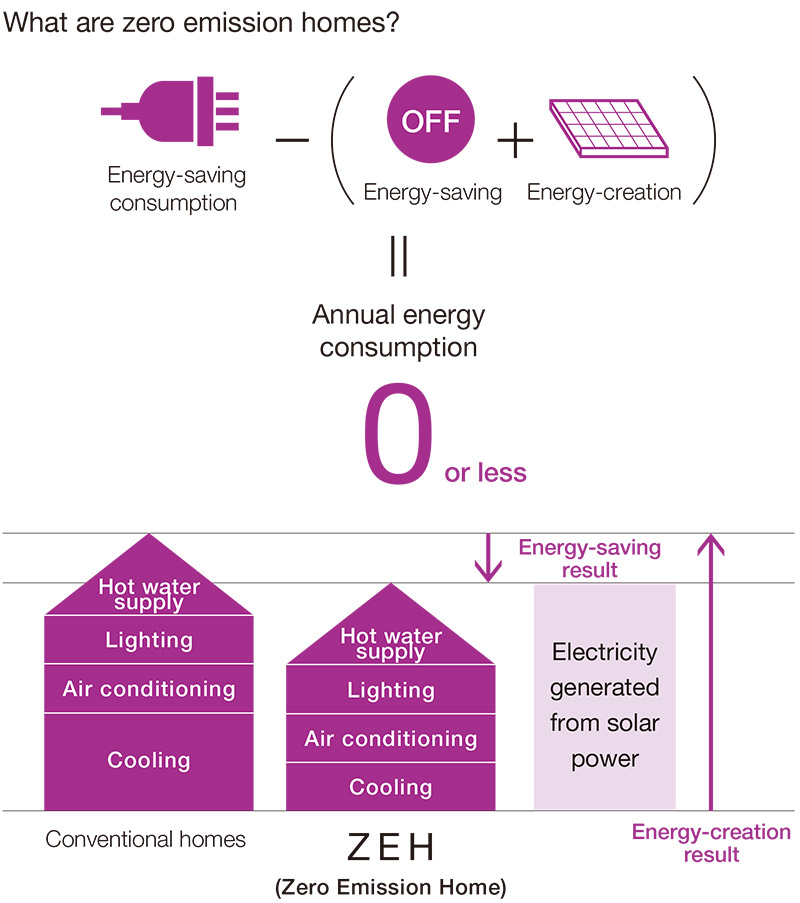 Providing Resilient Homes Equipped with Solar Power
The YAMADA HOLDINGS Group is looking to make the concept of resilient homes, with solar power and storage batteries, more well known. A resilient home is one that can independently supply energy even in an emergency, while controlling energy consumption in normal times. It is hoped that solar power systems equipped with home energy management systems (HEMS) to visualize electricity costs and energy generated without wasting any of the energy created, will have the effect of raising awareness about saving energy. The YAMADA HOLDINGS Group continues to make proposals for the installation of solar panels. Going forward, the Group will help build a safe and secure society through proposals for YAMADA HOMES' disaster-proof homes, NEXIS, and houses equipped with the Hinokiya Group's Qcells solar power system.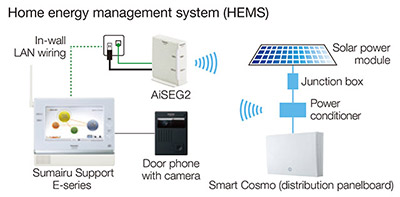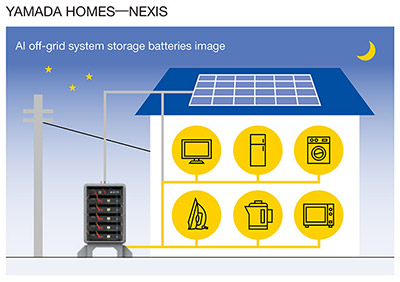 * It is possible to live off-grid by using the electricity generated during the day at home and storing the surplus power without selling it back to the electric power company for use at night or in the event of a disaster. As an emergency power source however, a basic contract with an electric power company is required.
Zekkucho―Next-Generation Heating and Cooling System
The Hinokiya Group is focusing on selling custom-built homes equipped with its Zekkucho systems which can keep temperatures around the home comfortable all year round, thanks to its excellent housing performance in terms of airtightness and heat insulation. Airtightness and heat insulation are controlled with the W-Barrier Construction Method, used as standard in Hinokiya homes. Combined with the foam insulation Aqua Foam, and aluminum heat shielding which blocks infrared rays, the result is a highly airtight, highly insulated home.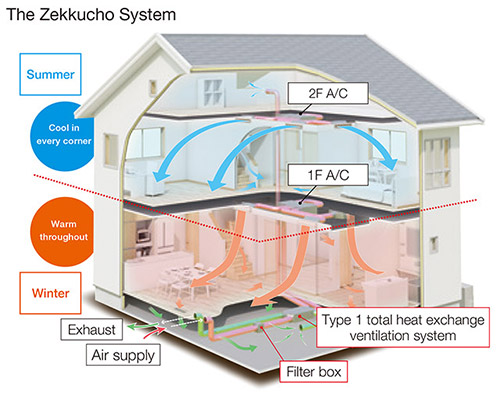 Customer Satisfaction Initiatives
Support System
YAMADA DENKI is seeking to offer a wide range of products, all at reasonable prices, with a kind and courteous customer service. The Company is working hard to satisfy customers not only at the time of purchase, but also right up to and beyond the time customers start using its products, including the after-sales services of product delivery, installation, repair, and support. The Company also listens to feedback from the sales floor and from customers to improve its service for the better.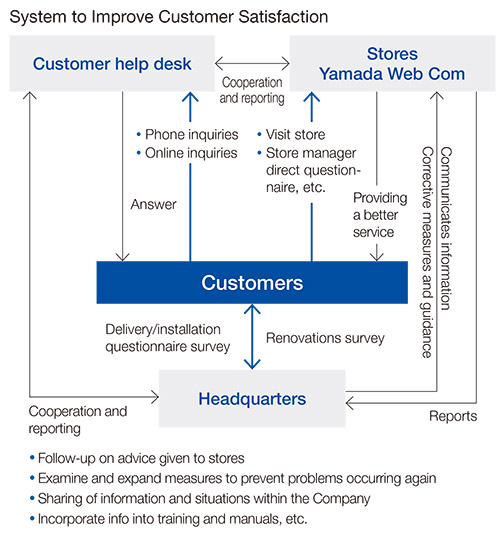 Customer Help Desk
So that it can make the most of customer feedback, YAMADA DENKI has set up a range of call centers, receiving many ideas and opinions from its customers. A customer help desk has been set up at the headquarters where a system is being created to listen to customer feedback and respond promptly after cooperation between relevant departments. In response to the feedback received, regular meetings are held from once a week to once a month. In addition to reports on the drafting of specific improvement plans, and the status of implementation and improvement efforts being reported to executive officers, information shared with each department at in-house company manager meetings. A call center has also been set up dedicated to receiving repairs and various other services in an effort to improve services. Going forward, the Company will continue to collect and analyze customer feedback with the aim of further improving levels of customer satisfaction.

Customer Service Training
Customer service training is conducted for call center staff at the Group's call center. Based on actual customer recordings, a check sheet that incorporates evaluation items is used to conduct an assessment to improve the quality of staff responses. The quality of our customer service is improved through feedback from the assessment results. Going forward, we will continue to work to further improve our responses, including how we collect customer feedback.
Training for call center staff
Digital Customer Support
YAMADA DENKI has been updating the design of the Yamada Digital Member app since May 2020 and continues to improve app functionality to make it easier for customers to use. In the latest update, the app has been redesigned with three features making it easier to operate, easier to find what users want, and with a better design for ease of use. Going forward, the Group will continue to provide not only products that meet the needs of customers, but also digital tools that make shopping easier and more enjoyable. The Group's e-commerce site, Yamada Web Com, was also given a facelift in April 2022. To make it easier for customers to find the products they are looking for, ways have been created to make shopping easier, including banners, information laid out in an easy-to-understand format, and rankings visibly displayed. Going forward, the Group will continue to optimize the Yamada Web Com site, from searching for products to making a purchase, and expand the range of products on offer so customers can experience the same excitement of coming across new products as they would in-store.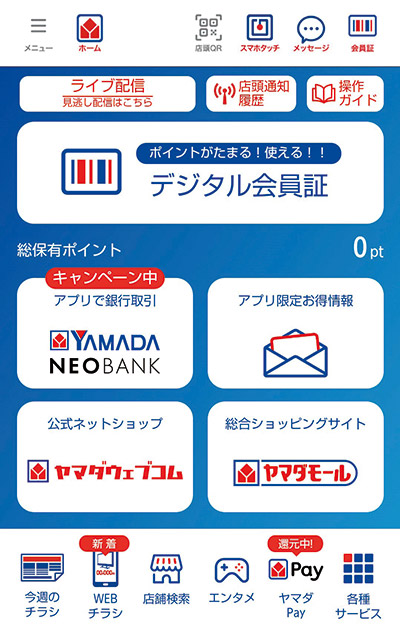 Yamada Digital Member app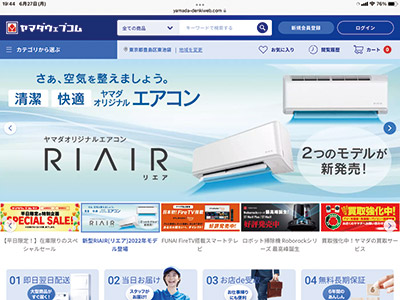 Yamada Web Com
Utilizing Tablet POS*
YAMADA DENKI has started to use a highly flexible tablet POS system for the convenience of its customers. Every salesperson has the POS capability on their device making it possible to offer even better recommendations in line with the customers' wide ranging needs. The system has helped to reduce customer waiting times by not having to manually check inventories, and has helped facilitate everything from initial customer service through to payment.
* POS: Point Of Sale, a system that collects and analyzes data on the sale situation of products
Store Manager Direct Questionnaire
As a way to garner customer feedback on the Group's business and services, customers are able to give their feedback directly to the store manager by posting their opinions and suggestions in a feedback box in store. Responses to customer opinions and suggestions received at each store are put up in store giving an opportunity for employees to see what problems and issues there are.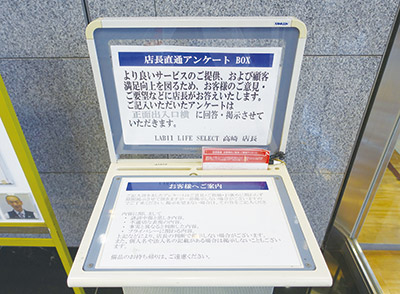 Remote Interior Consultations
As part of the Group's safe and secure proposal service especially during the pandemic, OTSUKA KAGU has been offering a free advice service that allows customers to easily consult with experts about their furniture and interior concerns from the comfort of their own home. Customers can make contact in whichever way is more convenient for them, either by telephone, by LINE, or on Zoom (video call). In this way, the Group is developing ways to assist customers, with products, interiors, and rooms, so they can lead a more comfortable life. Since the service began, the number of remote consultations has steadily increased, and as such, the Group will continue to make proposals that meet the needs of its customers.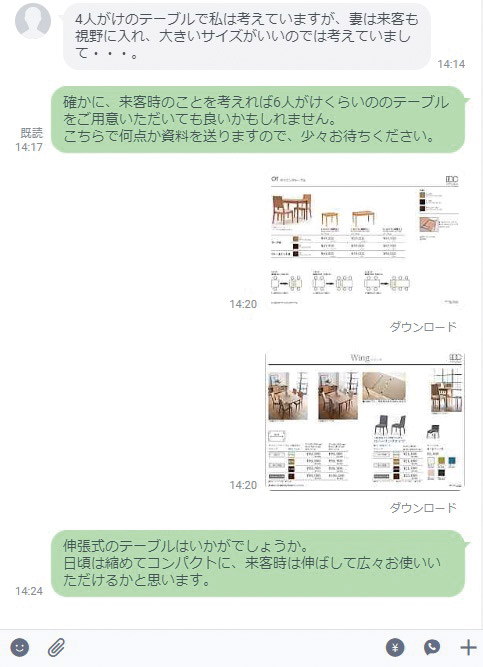 A typical remote consultation on LINE