Promoting a Good Work-Life Balance
In order to create a comfortable workplace environment, the YAMADA HOLDINGS Group believes it is important to provide a work environment that respects a good work-life balance. As such, the Group has established a comprehensive work-life balance system so that employees can choose a flexible working style especially during times of need with childcare and nursing care, etc.
YAMADA HOLDINGS' Main Support Systems (as of April 2022)
Type
System
Description
Childcare
Childcare leave
May be taken up until child reaches the age of 3 (until the age of 1 by law)
Shorter working hours for childcare
May be taken up until child graduates from elementary school (up to 3 years old by law)
Maternity leave
8 weeks before delivery (14 weeks for multiple births), 8 weeks after delivery
Time off for childcare
5 days leave may be taken for a child yet to enter elementary school (10 days for 2 children or more) in cases where time off is needed to look after a sick child, or for vaccinations or medical check-ups, up until the time child starts elementary school
Nursing care
Nursing care leave
Up to 184 days leave may be taken to care for a family member
Time off for nursing care
5 days leave may be taken per year to care for a family member (10 days for 2 or more family members)
Shorter working hours for nursing care
Up to 3 years leave may be taken to care for a family member
Others
Long break shift system
It is possible to leave work for a longer period of time than the set break time for personal reasons. The shift system may be used when the total number of hours worked before and after the long break is the same of more than the number of predetermined hours in the working day.
Menstrual leave
When a female employee finds it too difficult to work on a menstruation day, they may request leave and receive normal pay
Accumulation of expired annual paid leave
Up to 60 days of annual paid leave which has expired after a period of time may be accumulated. Upon prior request from the employee, this leave can be used when the employee is absent from work due to illness or injury or undergoing fertility treatment, or when caring for a family member as stipulated in the nursing care leave regulations, after all annual paid leave has been used up.
Hometown employees
Employees who work in regular positions may be transferred to locations around the country. After working for a certain period of time at the new location transferred employees may return back to the original location
Consecutive leave
Five, six, or seven consecutive days off may be taken in any one year
Special leave for female workers to receive health guidance or medical checkups in accordance with the Maternal and Child Health Act
Up to the 23rd week of pregnancy, one day of leave may be taken every 4 weeks; from the 24th to 35th week of pregnancy, one day of leave every 2 weeks; and from the 36th week until childbirth, one day every week may be taken
Reemployment System
A system that allows employees who have to retire due to reasons such as childcare or nursing care to return to work (within 5 years)
Reducing Long Work Hours
In addition to complying with labor-related laws, YAMADA DENKI is working to curb long working hours. A work interval system which ensures at least 11 hours of rest between the end and the start of the following work day is in operation to help improve work efficiency and reduce the amount of overtime work. Through this system, the Company aims to reform work-styles while reducing overtime hours.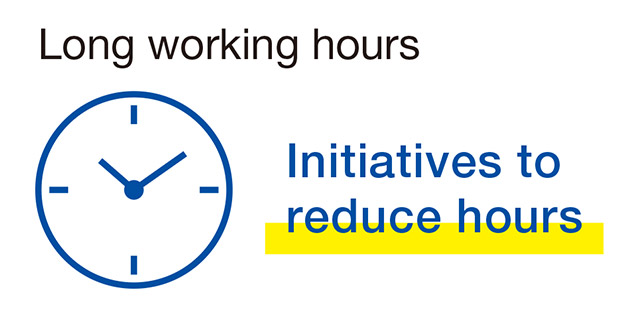 Promoting More Use of Annual Paid Leave
The YAMADA HOLDINGS Group is working to improve the rate of paid leave taken, which can also be taken in half-day increments.
The Group has also set new targets and is working to promote and strengthen them throughout the Group to provide a comfortable working environment for all employees.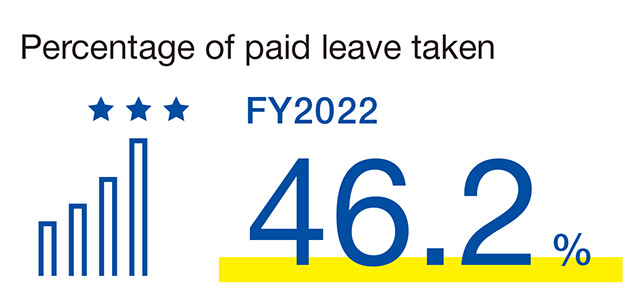 Healthy Labor-Management Relations
Overall, all employees who have signed up to YAMADA HOLDINGS and YAMADA DENKI's labor agreement are members of the labor union. The labor union has a membership rate 77.7%. Labor-management meetings are held once a month to promote dialogue between labor and management. Information is shared between management and the union, solutions to issues on working conditions are discussed, and activities are reported on.
Internal Questionnaire Survey
YAMADA HOLDINGS and YAMADA DENKI conduct in-house questionnaires every year for full-time employees, contracted employees, and part-time workers on their motivation to continue working, their work satisfaction, the workplace environment, the training system, and CSR initiatives.
Introduction of Area Employee System
YAMADA DENKI is running an area employee system that employees do not have to relocate. The system enables employees to choose a working style in line with their own life plan or family environment whether for childbirth or looking after children or elderly parents. In the fiscal year ended March 2022, 6.1% of employees used the system.
Corporate Defined Contribution Pension, CoDeCo
YAMADA DENKI runs a corporate defined contribution pension system called the Yamada CoDeCo for the purpose of securing employees' retirement income and supporting voluntary efforts to stabilize their everyday lives. It is a pension system to save for the future that takes advantage of tax and investment benefits. Taxes and social insurance premiums are deducted from salaries but not from CoDeCo premiums, thereby having a tax-saving benefit. In terms of investment, fixed deposits are currently at around 0.002% interest per year, but CoDeCo users have an average return on investment of 4.6% which is further tax-free.
Childcare and Nursing Care System
Regardless of gender, the YAMADA HOLDINGS Group encourages employees to take childcare and nursing care leave so that they can work flexibly.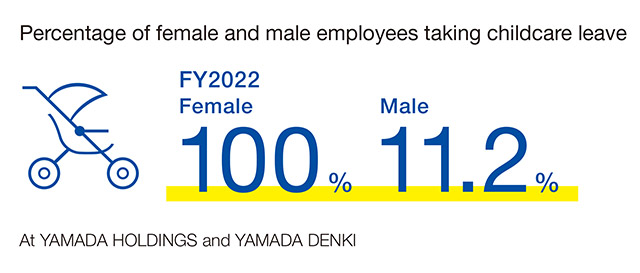 System Usage Data (full-time employees only)(as of March 31 each fiscal year)
Type
FY2020
FY2021
FY2022
Paid leave taken(%)
-
45.8
46.2
Number of employees taking childcare leave
Male
28
37
32
Female
215
265
187
Total
243
302
219
Number of employees taking shorter hours for childcare
Male
10
13
7
Female
350
730
581
Total
360
743
588
Number of employees taking nursing care leave
Male
4
3
2
Female
5
5
5
Total
9
8
7
* YAMADA HOLDINGS and its major operating companies.
* Previous years' values have been retroactively revised to improve accuracy.