Human Resource Development and Training in Response to Customer
Improving Customer Service
In order to improve customer service skills, YAMADA DENKI provides practical training with a focus on on-the-job training (OJT), as well as systematic training via online training and e-learning programs. In order to also further improve the quality and accuracy of services, customer questionnaire surveys are conducted in stores, on deliveries and during after-service, with the results used for employee training purposes. Furthermore, as part of strengthening renovation proposals in order to augment 'Total-Living' services for the living environment, initiatives are being carried out to enhance job-specific training, including training manuals and interior study sessions for employees.
Enhanced Leaning Support Tools
To give a consistent sales services from home appliances to interiors and renovations, YAMADA DENKI has been rolling out its own learning site, called My Learning, to employees on product knowledge and sales techniques. As well as improving knowledge on such matters, the Company is also working to enhance content that focuses on social and environmental issues such as human rights and anti-corruption. Through videos using QR codes, the Group is working to create a more fulfilling educational environment where employees can learn independently in their own time with an emphasis more on demonstration and role-playing videos instead of lectures.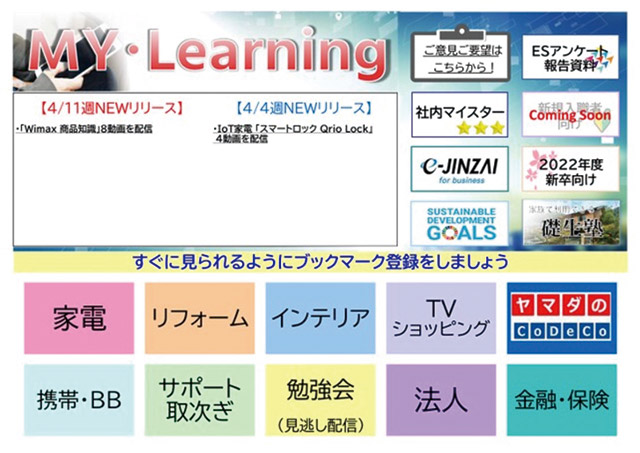 A screenshot of the My Learning site
Improving Our Ability to Make Proposals
In addition to gaining product knowledge, various measures are being taken to accurately understand the needs of customers in order to recommend the best products to them.
Strengthening Proposals for Renovations
YAMADA DENKI is working to strengthen its proposals for renovations to improve the comfort and convenience of customers' lives. 'Total-Living' proposals are made not only for home appliances but also for kitchens and bathrooms, interiors and exteriors, as well as for furniture. We are striving to improve our skills by strengthening the training of various advisors who can give more detailed advice with regard to customers' homes. Moreover, employees qualified as architects give pertinent proposals to meet the needs of customers looking to extend or make improvements to their homes.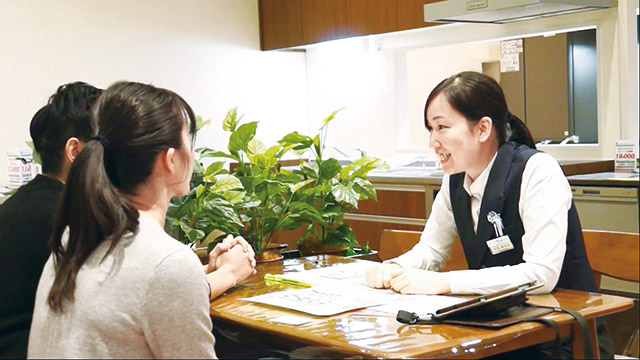 Improving Delivery and Installation
At YAMADA DENKI, we aim to improve our service to our customers not only when selling products, but also after the products have been sold, during delivery and installation.
Training to Certify CS Managers
In order to standardize efforts to improve customer satisfaction (CS) in product delivery and installation, every year YAMADA DENKI requests its partner companies to train as certified CS Managers. In order to prevent the spread of Covid-19 in fiscal 2022, existing CS Managers had their certifications automatically renewed while training was given only to new trainees. Training is given to certify a person in charge at the respective companies with guidance on the standards that YAMADA DENKI expects with respect to customer satisfaction, manners, how the technicians operate, product delivery and installation. Training sessions consist of educational training, group discussions and a written test. Under this system, YAMADA DENKI certifies the people in charge at partner companies with the aim of maintaining their levels of customer service to the same level as YAMADA DENKI employees.
Customer Questionnaire Survey
Customer questionnaires are conducted to survey the level of customer satisfaction. From the fiscal year ended March 2021, questionnaires were carried out on smartphones as a way to better protect personal information and improve the response rate. Results from the questionnaires are analyzed and based on the results policies are drawn up to improve customer satisfaction. These policies are made known to companies involved in the survey at customer satisfaction meetings held four times a year so that the partner companies can then inform their respective shop floors.