Initiatives on the TCFD Recommendations
Information Disclosure Based on TCFD Recommendations
Climate change poses not only a risk but also brings new business opportunities. For the YAMADA HOLDINGS Group to aim for sustainable growth, the transition to a decarbonized society is one of the important management issues that must be faced and addressed. Based on the TCFD recommendations for information disclosure on the financial impact of risks and opportunities brought about by climate change, the Group will proceed to verify climate change scenarios in line with the framework of governance, strategy, risk management, metrics and targets, and proactively disclose information. Going forward, the Group will also promote smooth dialogue with its stakeholders, aiming to further increase corporate value by improving upon its climate change-related information.
Governance
The Group recognizes that responding to climate change is an important management issue. Basic policies and important matters related to climate change are examined by the ESG & Sustainability Promotion Committee chaired by the representative director, and deliberated and decided by the Management Committee, a decision-making body involved in business execution. At the same time, based on the board's rules, reports are made to the Board of Directors on a regular basis (about twice a year) with a system in place to ensure proper supervision of the Board of Directors.
Strategy
The Group regards various risks and opportunities associated with climate change as one of the most important aspects in formulating its business strategy. To conduct studies for the Group's four major businesses based on various climate-related scenarios, including scenarios of 2°C or lower, as recommended by the TCFD, YAMADA HOLDINGS analyzed the impact on the Group's business activities and finances, and identified important risks and opportunities in fiscal 2022 with reference to the 2°C or lower and the 4°C scenarios.
Scenario Analysis
Scope: All YAMADA DENKI stores in Japan, all sales offices of the Hinokiya Group and YAMADA HOMES, Housetec plants, and reuse/recycle plants
Period: Impact from 2030 to 2050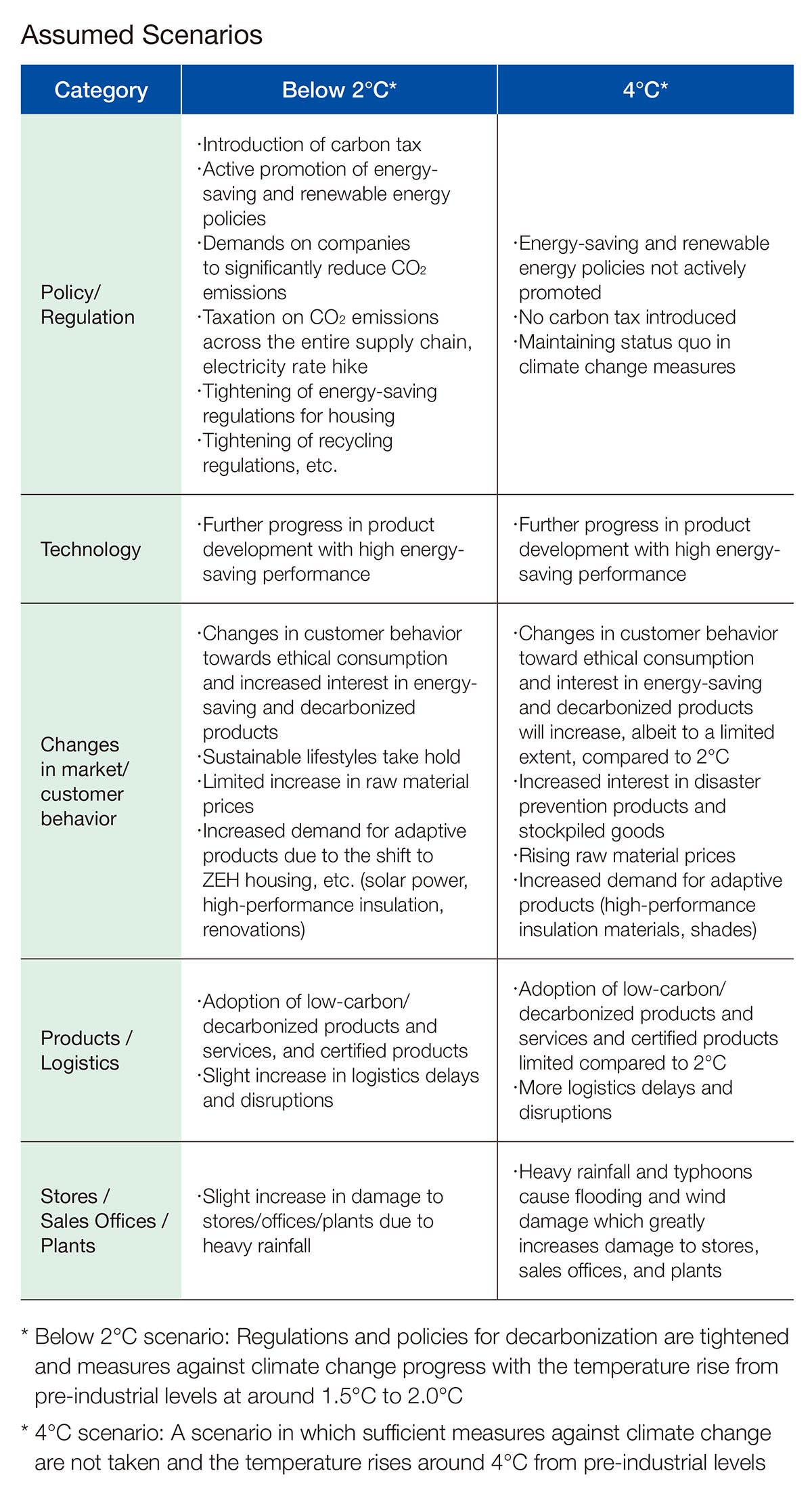 Risk Management
Climate-related risks are regarded as one of the major risks that affect the Group's business. As such, the Group confirms progress of measures to address the important climate-related risks identified in the scenario analysis, and the status of risk management, reporting to the Board of Directors once a year.
Metrics and Targets
The Group is developing targets for Scope 1, 2, and 3 emissions to assess and manage climate-related risks and opportunities.