Reducing Waste and Resource Recycling
The YAMADA HOLDINGS Group has helped to reduce its impact on the environment in society as a whole by completing the product life cycle within the Group. This has been done by constructing a system to reuse, recycle, remanufacture, and resell used electrical appliances collected from customers.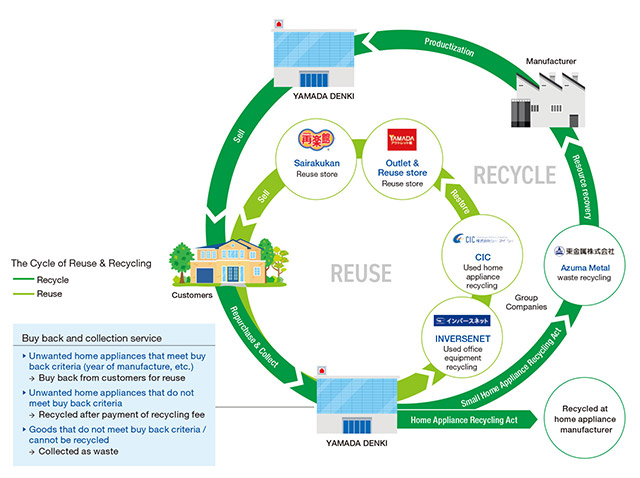 Initiatives to Reduce Waste
In accordance with relevant laws, YAMADA DENKI properly disposes of waste material from its stores as well as discarded home appliances from customers not covered by the Home Appliance Recycling Act. Specifically speaking, home appliances taken in store are classified into one of three categories: reuse, recycle, or dispose. Products that meet the Company's criteria are given a new lease of life at reuse plants as reused products and sold at Yamada outlet and other stores. Some products that cannot be reused are processed at a recycling plant. As for products that don't meet the reuse criteria but which can be recycled, these are meticulously sorted at recycling plants and separated into component materials such as iron, aluminum, and stainless steel. This then goes on to be reused as raw materials in lots of other different products. Waste is outsourced to an external recycling company for recycling. Products that cannot be recycled are disposed of in landfill. By building systems and using machines with advanced sorting functions, we will increase the number of products that can be reused and recycled, leading to a reduction in waste.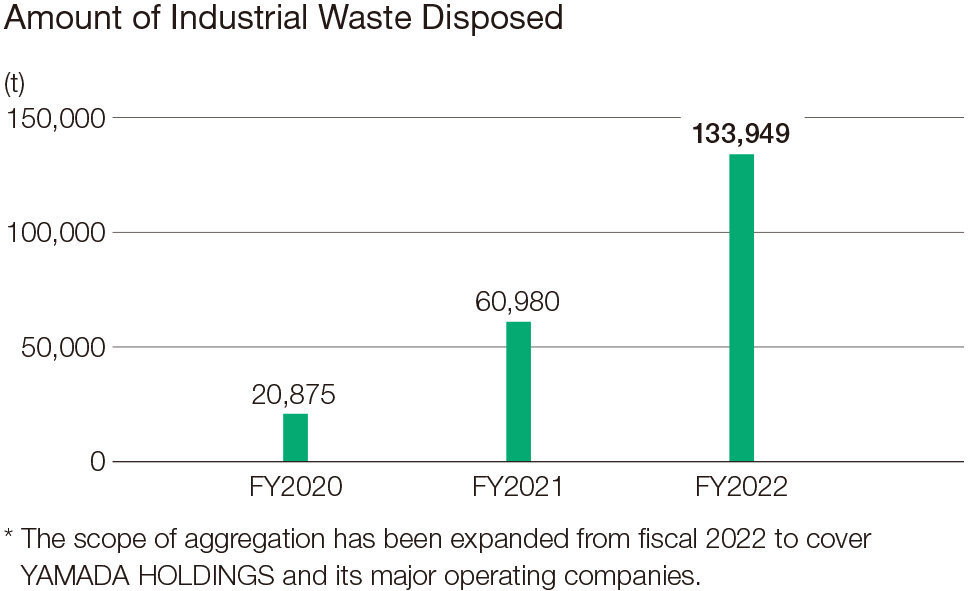 The 3Rs
Yamada Environmental Resources Development Holdings is engaged in the business of reuse and recycling, reducing waste and its proper disposal, and using recycled materials with a focus on electrical appliances. The Company efficiently collects used products and reuses them wherever possible to resell and deliver on to customers. The Company also comprehensively recycles products that cannot be reused, with the recycled materials used as raw materials for new products.
Reuse & Recycling
Regarding the reuse of home appliances, we are building a complete distribution network for the reuse of home appliances, from the repurchase of quality products through to recycling and sales, centered on CIC which develops environmental resources. Our two reuse centers provide a service that allows customers to purchase reused home appliances with peace of mind by giving every product a thorough clean, check and repair, as well as a warranty of up to 24 months from the day the product is purchased. As for the reuse and recycling of computers, INVERSENET recovers second-hand computers for resale. Items that cannot be reused are dismantled and recycled as raw materials or as fuel. Furthermore, Azuma Metal is able to use a high-precision machine to cut out and separate plastics, metals and mixtures, etc. By subdividing the materials into tiny parts and recycling them raises the value of the resources. Looking ahead, we will continue to make the most of our advanced technological capabilities to improve how much we can reuse and recycle.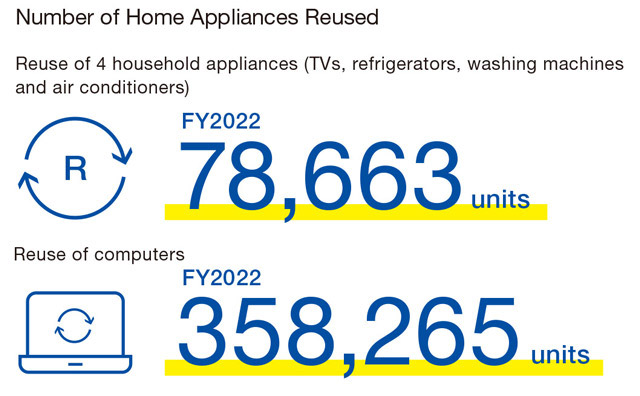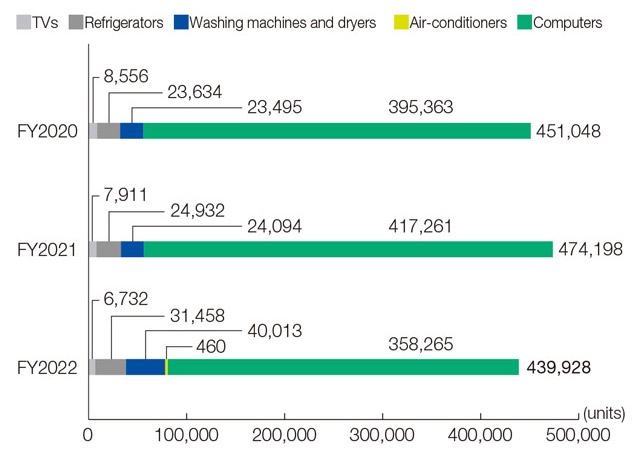 Recycling Small Household Appliances
YAMADA DENKI collects used small electrical appliances at all of its stores based on the Act on Promotion of Recycling of Small Waste Electrical and Electronic Equipment (Small Home Appliance Recycling Act*). Small electrical appliances collected at stores are inspected, disassembled, and crushed by Azuma Metal. The materials are then sorted before going on to be recycled.
* A system that promotes the formation of a circular economy whereby a government-certified business operator collects and processes electrical machinery and appliances, excluding the four categories of home appliances subject to the Home Appliance Recycling Act (TVs, air conditioners, refrigerators and freezers, and washing machines and clothes dryers).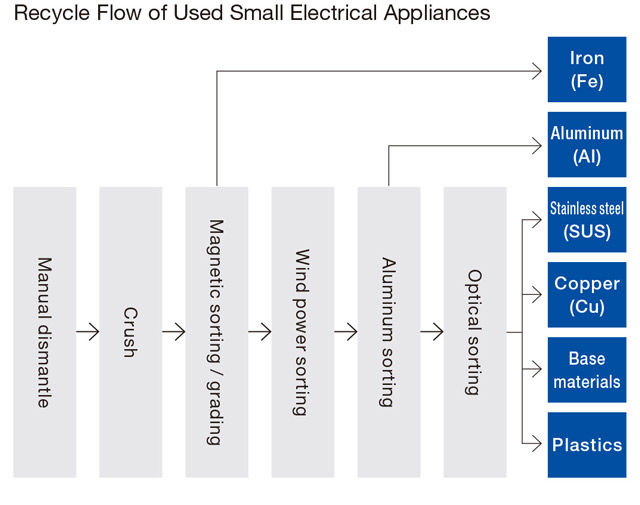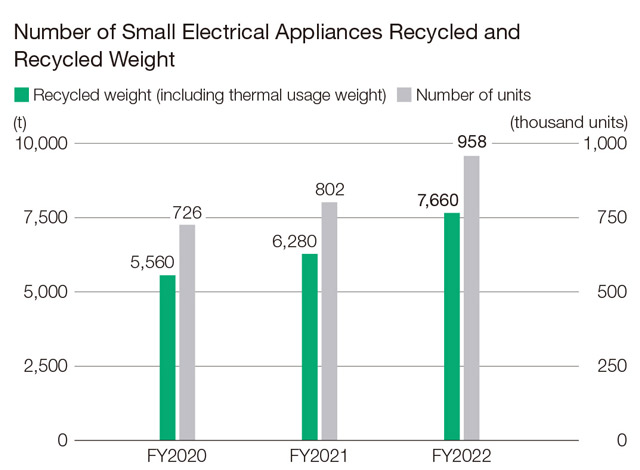 Product Development Using Recycled Materials
YAMADA HOLDINGS Group are making a range of sustainable efforts in terms of recycled materials. As well as reusing and re-marketing used electrical appliances received from customers, materials made from recycled resources are developed into eco-friendly products and then sold. Some of the parts used in YAMADA HOLDINGS's private brand SPA products use plastic materials recycled in our own group. One washing machine made with recycled plastics is expected to reduce emissions by as much as 7kg-CO2, a sizable contribution to the Group's sustainability. In the future, the Group will aim to develop and sell products in various fields such as housing.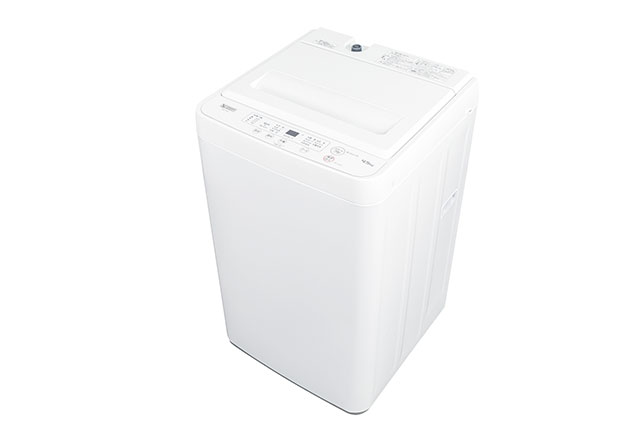 Recycling Ink Cartridges
YAMADA DENKI donates 10 yen for every used ink cartridge deposited at one of its reusable ink cartridge collection boxes in each of its stores. In the fiscal year ended March 2022, approximately 0.94 million cartridges were collected with 9,804,740 yen donated to the Foundation for Orphans from Automobile Accident. The amount of carbon emissions was also reduced by 71.7t through the collection and sale of ink cartridges.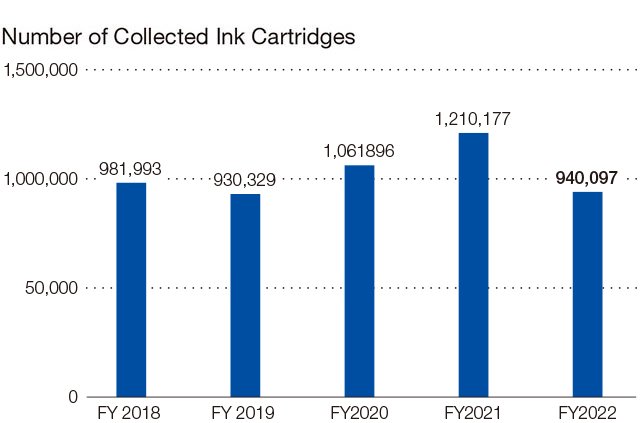 Reduced Paper and Ink with Electronic Shelf Labels
Since February 2020, YAMADA DENKI has been using electronic shelf labels (electronic prices) for its digital home appliances. Electronic pricing not only reduces the amount of paper and ink used, but also helps to streamline inventory management and reduces workloads for employees.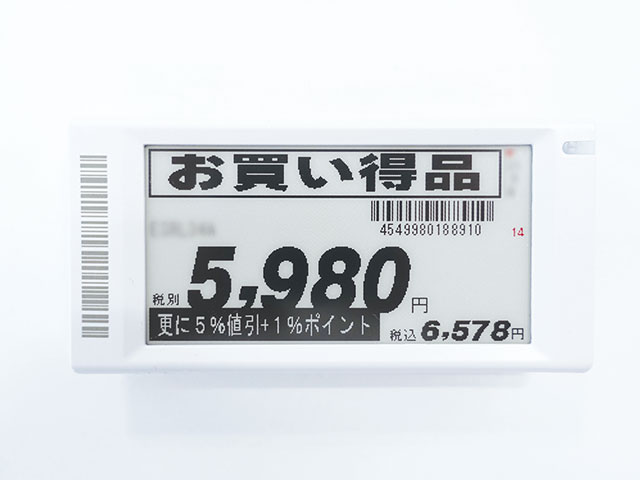 Electronic Shelf Labels (electronic prices)