Dialogue with shareholders and investors
YAMADA HOLDINGS believes that its mission is to maintain sustainable growth to increase corporate value and contribute to society, endeavoring to make active communications by disclosing information to shareholders and investors in a timely and appropriate manner.
Timely and Appropriate Disclosure of Business and Financial Information
YAMADA HOLDINGS provides IR information to its stakeholders, including shareholders and investors, through its website. YAMADA HOLDINGS is working to encourage a deeper understanding of the Company by disclosing new product development and new initiatives in addition to disclosing other documents such as financial statements and press releases.
Communication with Shareholders and Investor
YAMADA HOLDINGS is strengthening how it collects and shares information so as to achieve constructive dialogue with individual and institutional investors in Japan and overseas, as well as to reflect not only a one-sided sharing of information but also to reveal information obtained through dialogue in management. This also gives us a greater opportunity to explain our business performance and management policies from a global perspective seeing that the foreign shareholding ratio is larger than in previous years. The Company holds meetings on its business strategies and ESG/Sustainability activities with investors and analysts around 200 times a year in Japan and overseas.
▶Shareholding Ratio (as of March 31, 2022)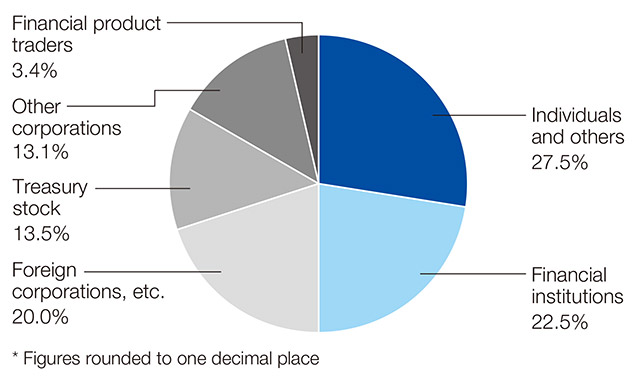 ▶Foreign Shareholder Ratio (Non-consolidated)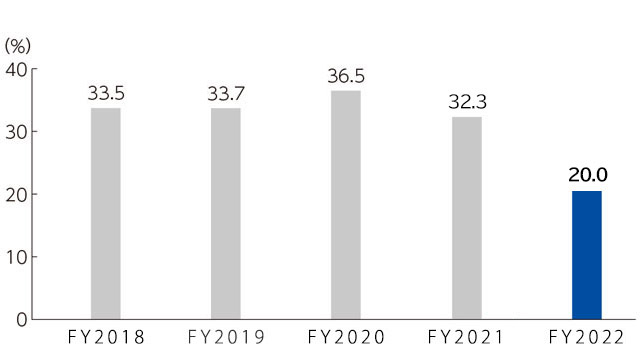 General Meeting of Shareholders
YAMADA HOLDINGS holds a regular general meeting of shareholders in June each year. The notice of call of the general meeting of shareholders shall be delivered earlier, and in response to questions from shareholders, endeavors will be made to provide easy-to-understand explanations so that shareholders can understand YAMADA HOLDINGS's initiatives.
IR Activity
To cater for all types of investor, each year YAMADA HOLDINGS holds a financial results briefing aimed at analysts and institutional investors, as well as a briefing aimed at individual investors*. YAMADA HOLDINGS' management philosophy and policy, current business performance and future business strategy explained directly from top management each year to help investors gain a deeper understanding of the Company.
*It was held 17 times since 2003, but has been canceled due to COVID-19 from 2020.
▶Details of IR Activities
Target group
IR activities
Domestic institutional investors and analysts
• Quarterly briefings
• Financial results briefing
• Individual visits
• Online meetings
Overseas institutional investors
• Individual visits
• Online meetings
• Participation in a conference for overseas investors
Individual shareholders and investors
• Briefing for individual investors
▶Number of meetings with investors, etc. (times)
| | Frequency |
| --- | --- |
| FY2019 | 221 |
| FY2020 | 212 |
| FY2021 | 247 |
| FY2022 | 208 |
Basic Policy on Distribution of Profits
Regarding profit distribution, the most important policy is the stability and continuity of dividends to shareholders.
In our basic policy on profit distribution, we will strive to improve the efficiency of our capital, aiming at sustainable improvement of corporate value in the future. We believe that reserves are essential ,so we determine the amount of dividends in consideration of factors such as financial conditions and business results for the fiscal year under review.
In addition, internal reserves will be allocated to aggressive store development based on the concept of "Total-Living," M&A development to maximize synergies in each business segment, human resource development, and ESG investment in the environmental resource development business. We will make use of this for the sustainable growth of the company.
We will continue to aim for sustainable dividends based on stable profit growth.
▶Dividend per share (Non-consolidated)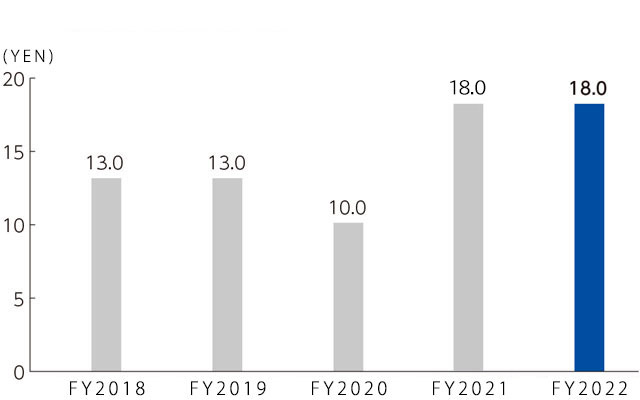 ▶Payout Ratio (Consolidated)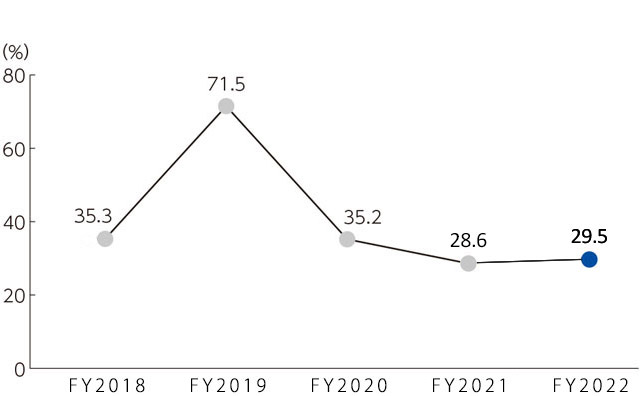 Economic Relationship with Key Stakeholders
The economic relationship with key stakeholders is as follows. For more details, please refer to the Summary of Financial Statements and Securities Report.
▶Economic relationships with key stakeholders (billions of yen)
| Stakeholder | Calculation method, etc. | FY2019 | FY2020 | FY2021 | FY2022 |
| --- | --- | --- | --- | --- | --- |
| Shareholder | Amount of dividends paid to shareholders | 10.57 | 8.80 | 14.75 | 15.04 |
| Employees and officers | Total personnel expenses and executive compensation included in selling, general and administrative expenses | 157.72 | 161.27 | 166.89 | 176.57 |
| Administration | Corporate, inhabitant and enterprise taxes | 14.34 | 13.0 | 36.16 | 15.95 |
The Shareholder Special Benefit Plan
In appreciation of the support given to us by our shareholders, the Company has established a shareholder special benefit plan with the aim of improving the appeal of investing in its shares. Complimentary vouchers are provided twice a year to shareholders as of the end of March and the end of September.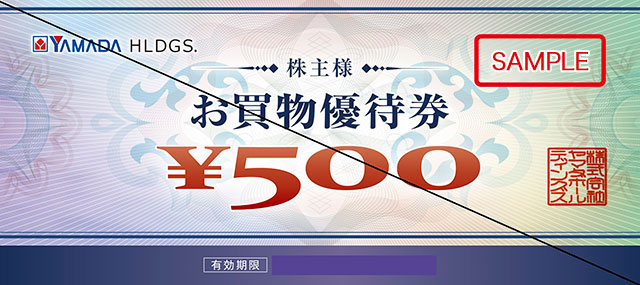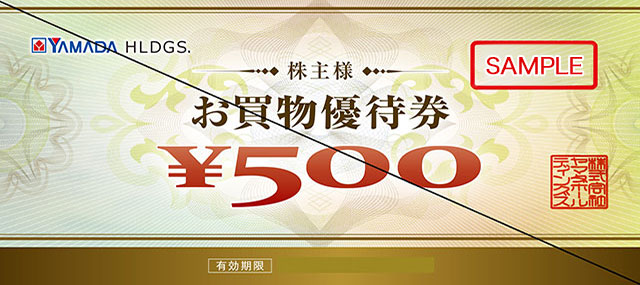 ▶Number of individual shareholders