Business Activity Report
Risks and Opportunities in the Business Environment
Risks
・Slowdown in consumer spending in line with increased needs to protect household budgets
・Economic recession due to pandemic
・Drop in inbound demand
・Contracting market due to slowing Chinese economy
・Intensifying competition across sectors and industries
Opportunities
・Increased demand for 5G equipment
・Increased demand for services and equipment due to more people working from home
・'total-living' proposals with all our products and services
・Growing market for home renovations
・Growing online sales
Business Overview
The Yamada Group provides high quality products and a variety of services through its mainstay consumer electronics business, contributing to a better way of life and improved convenience for customers. In recent years, we have been developing various businesses based on the concept of 'total-living' which brings together electrical appliance-centric houses, renovations, fitted kitchens, bathrooms and other furniture connected to the living space, with our finance and real estate services. Along with utilizing the strengths of our store network, from urban and suburban to local stores all over Japan, that meet the diverse needs of our customers, the Group is also working on incorporating online sales as well as strengthening the development of SPA (originally manufactured and retailed) products. In October 2019, we introduced a branch manager system that focuses on improving profit margins. Going forward, we will continue to make proactive efforts to maximize the management resources of the Yamada Group in line with changes in society, striving to achieve sustainable growth and increase corporate value.
Earnings
In the fiscal year ended March 31, 2020, overall sales remained strong despite temporary impacts from the frequent natural disasters and recoil from the consumption tax hike. Of these overall sales, our mainstay consumer electronics remained firm, due in most part to higher priced TVs, refrigerators, and washing machines, against the backdrop of a last minute surge in demand prior to the rise of the consumption tax rate. In addition, replacement demand for digital devices such as personal computers remained strong. As a result, consolidated financial results for the fiscal year ended March 31, 2020 were: sales of 1,611.5 billion yen, operating profit of 38.3 billion yen, ordinary profit of 46 billion yen, and profit attributable to owners of parent of 24.6 billion yen.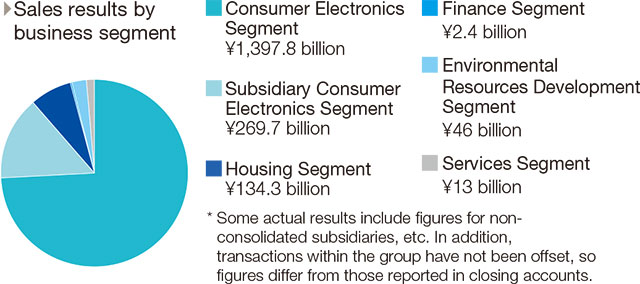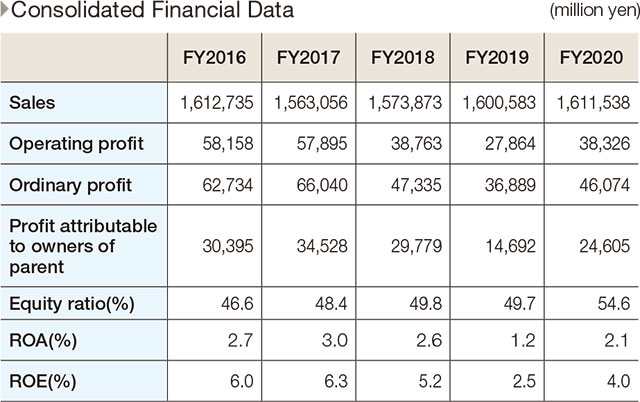 The Consumer Electronics Segment & The Subsidiary Consumer Electronics Segment
Major Initiatives in Fiscal 2020
Amid an expected sharp decline in consumer spending following the consumption tax hike in October 2019, the consumer electronics business pushed through with reforms on a new profit model to strengthen the business more quickly. Specifically, we continued to work on our inventory with a focus on selling through, something which we started to do in fiscal 2019, in a bid to improve our profit margin. In addition, we shifted to sales centered around our concept of 'total-living' with home appliances at the heart of this lifestyle framework, also completing the subsidiary acquisition of OTSUKA KAGU, LTD. as one means to strengthen this sales shift.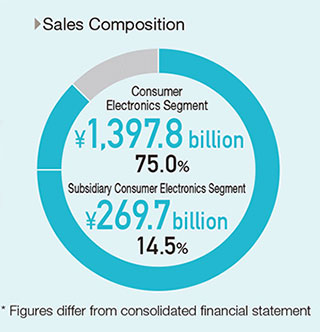 01 Subsidiary Acquisition of Otsuka Kagu
In December 2019 we made Otsuka Kagu, with its expertise in furniture sales, a subsidiary in order to strengthen our 'total-living' strategy. In February 2020, in line with the renewal of four existing stores, we started the rollout of our lifestyle-type sales floors in collaboration with Otsuka Kagu. And by March the Otsuka Kagu stores had started selling household electrical products. Going forward, we will continue to seek further developments in order to create synergies that leverage the strengths of each business.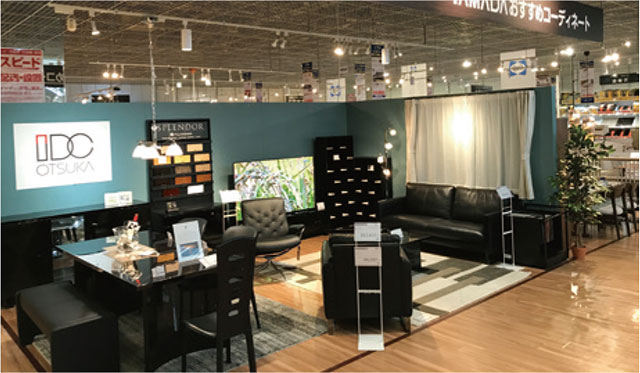 02 SERIE NOIR - A New Series in Home Appliances
Yamada Denki's SPA (originally manufactured and retailed) product range, YAMADA SELECT, now boasts the SERIE NOIR series of carefully designed home appliances combining functionality with design. The first line in the series released in January 2020 comprises of the Cooking Pot, Hot Plate mini (A4 size hot plate), and Cooking Pot mini (mini grill pan), all featuring a high-quality design and functionality perfect for the kitchen/dining experience. In the future, we will continue to expand the series and develop SPA products that go beyond the limits of ordinary home appliances.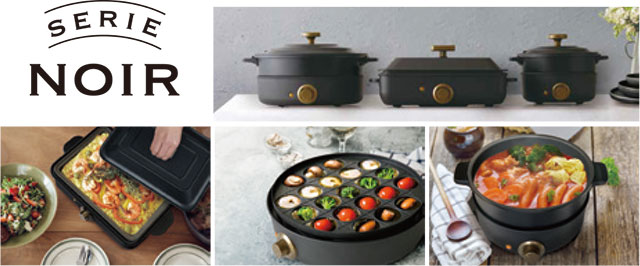 Challenges and Prospects for Fiscal 2021
Tough times are expected because of a drop in consumer spending on the back of dented consumer confidence, as well as a decrease in inbound demand, as a result of the coronavirus pandemic. Under these circumstances, the consumer electronics segment aims to improve profitability through continuous reforms. Furthermore, in addition to our aim to create synergies by promoting displays at existing stores which combine home appliances with furniture and interior products from both Yamada Denki and Otsuka Kagu, we will strengthen the development of SPA products, creating some good ideas for spending an enjoyable time at home, something which we all have to do more of in light of the coronavirus pandemic. We will also expand the number of YAMADA web.com stores, our latest type of store giving an online presence and sales outlet.
Housing Segment
Major Initiatives in Fiscal 2020
The business environment continues to face a difficult time with the downturn after the consumption tax hike having a major impact on the renovations division, as well as with delays in construction due to the many natural disasters such as typhoons. Under these circumstances, we have taken steps to maximize synergies from the restructuring of business groups. In March 2020 also, as a means to strengthen our 'total-living' strategy, NAC CO., LTD. became a core company in the housing business, and it was announced that the nationwide custom-home builder LEO HOUSE CO., LTD. (now YAMADA LEO HOUSE, CO., LTD.) had become a subsidiary.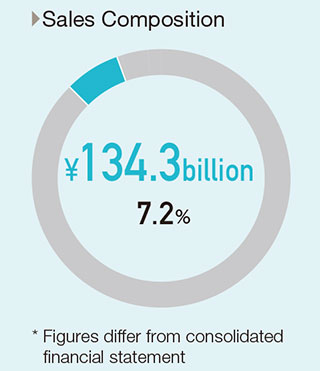 01 Subsidiary Acquisition of Leo House
Becoming a subsidiary in May 2020, Yamada Leo House is a house builder providing custom-design, tailor-made homes with its promise of "together, building a home to make your life better." In providing satisfaction to customers for its tailor-made homes, apparent from its first place in the category of 'Value for Money' in the Oricon Customer Satisfaction Rankings for three years running (2016-2018), the company can be expected to create synergies in line with the Yamada Group's 'total-living' strategy.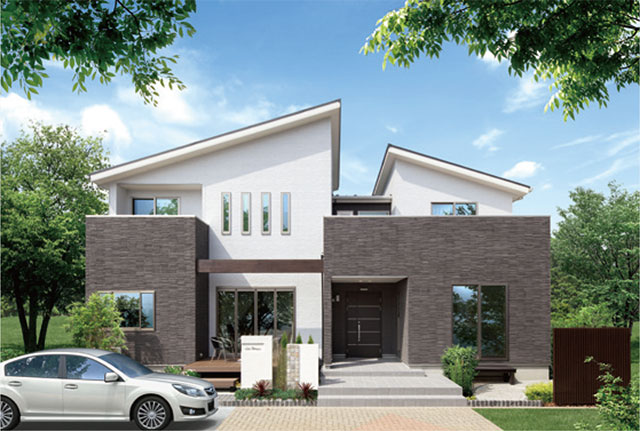 02 Subsidiary Acquisition of IEMAMORI HOLDINGS
In February 2019, we entered into a capital and business alliance with Iemamori Holdings, a business engaged in a wide range of home-related services from quality inspections of new homes to the service and maintenance of existing homes, and residential remortgages. We acquired a majority shareholding in the company, making it a subsidiary of Yamada Holdings. As well as seeking out potential demand for home renovations by making full use of Iemamori Holdings' wealth of over 150,000 home inspections, we will develop a variety of services that carefully addresses the needs of consumers while effectively utilizing the network of the Yamada Group.
Challenges and Prospects for Fiscal 2021
 Although the number of new home-build starts has been declining in recent years, the renovation market is expected to hold firm in the medium to long term. However, because of the coronavirus pandemic, we are already seeing signs of a hold back from buying homes due to uncertainties about work and the future of the economy. As such, it is expected that this difficult business environment will continue. In the housing segment, we will aim to provide and propose services that make use of the Yamada Group's unique ability to provide a complete package in order to further promote and build on our 'total-living' strategy from last year. In addition, we will strive to expand the size of the housing segment by promoting long-term quality housing expounded by our 'disaster-proof' concept, as well as by leveraging economies of scale such as with the subsidiary acquisition of Leo House.
Finance Segment
Major Initiatives in Fiscal 2020 and Future Prospects
In order to promote "proposal-based sales," a pillar of the Yamada Group's growth strategy, it is essential to create our own proprietary financial business. As such, we are engaged in the development and sales of various financial products, forming the structures and gaining the relevant qualification to bring these products to market. We will become "A partner to make customer dreams come true" as soon as we possibly can. Highlights for each financial business in fiscal 2020 are as follows.
1 Mortgages: Cumulative total of 1,300 Flat 35 loans with loan amount exceeding 40 billion yen
2 Renovation Loans: Over 15,000 in total. Sales started at Otsuka Kagu.
3 Damage Insurance: Began sales of the Yamada Disaster Relief Insurance, the industry's first for natural disasters
4 Insurance Agency: Develop a life plan nationwide through in-house financial planners (100 employees)
5 Credit: Improved customer convenience by starting on-the-spot credit and 3 year interest free credit
6 Real Estate: Accelerated store openings nationwide in partnership with CENTURY 21 REAL ESTATE OF JAPAN LTD. Going
forward, we will explore ways to expand our business while urgently improving the systems of each company within the finance segment.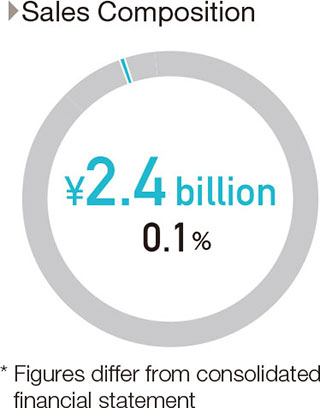 Environmental Resources Development Segment
Major Initiatives in Fiscal 2020 and Future Prospects
In the reuse business, the buying of used home appliances at our home electronics retail stores did not proceed as expected with the number of reuse units having decreased. From now on, we will take measures to strengthen our buying of used home appliances, with for example, our purchase assessment service where we check, at the time of product delivery to the customer's home, whether an item is defective or not, as well as implementing the use of touch-based customer service terminals (T-POS) in stores as a means to assess purchases. In the recycling business, we have been preparing for the expansion of existing facilities, including obtaining the relevant permits and licenses. Also, in March 2020, we established YAMADA Environmental Resources Development Holdings Co., Ltd., whose main business is reuse and recycling in the Yamada Group. In the future, we will support business expansion and new business development as an environmental resources development segment.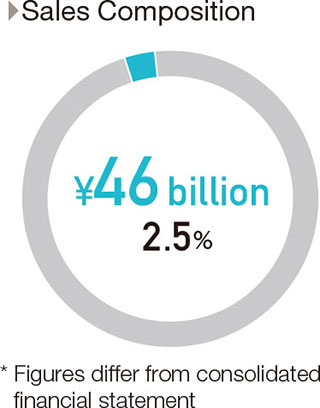 Service Segment
Major Initiatives in Fiscal 2020 and Future Prospects
Sales in the service segment were favorable in fiscal 2020. In the trading business, we worked with YAMADA HOMES Co., LTD. to set standard equipment for the NEXIS disaster-resistant houses, and worked to improve loading rates for all equipment. Due to the impacts of the coronavirus pandemic which has shaken the world in 2020, results decreased because of shortages and delivery delays with building materials and housing equipment, but the impact has been negligible thanks to the start of orders and sales of new products. However, the food business and service businesses such as travel agencies are struggling, meaning the business environment is expected to remain challenging. As a measure against the tough environment, we will build new sales pillars free from conventional product groups, working to stabilize and improve our business.