Respect for Human Rights
With the progress of globalization, companies are trying to get to grips with international norms such as the World Declaration on Human Rights, the ILO's Fundamental Principles and Rights at Work, and the United Nations' Guiding Principles on Business and Human Rights. As such the YAMADA HOLDINGS Group is required to address human rights issues of various stakeholders affected by its business activities, and not just within the organization.
In light of these circumstances, along with reviewing the content of its respect for human rights in its CSR Code of Ethics, the YAMADA HOLDINGS Group has established a human rights policy which sets out the Group's due diligence on human rights, the remedies and corrective measures to be taken in the face of human rights abuses, and education on human rights. The Group will continue to strive to fulfill its responsibility to respect human rights throughout all of its business activities.
Human Rights Initiatives
The YAMADA HOLDINGS Group conducts training on the theme of various human rights issues that arise in business execution, with the aim of raising awareness and building a culture of respect for human rights. In fiscal 2022, the Group participated in the "My Declaration of Human Rights" project managed by the Ministry of Justice. "My Declaration of Human Rights" is an initiative that aims to realize a society where everyone respects each other's human rights, through declarations by companies, organizations, and individuals which express that they will take actions to respect human rights. The purpose of the initiative is to encourage companies and organizations to take action through management's determination and commitment to respect human rights. The officer in charge at YAMADA HOLDINGS has made a commitment to promote respect for human rights and the importance of respecting human rights in the Group's business activities. Questionnaires are also given to business partners to check for any human rights issues by understanding their working environments.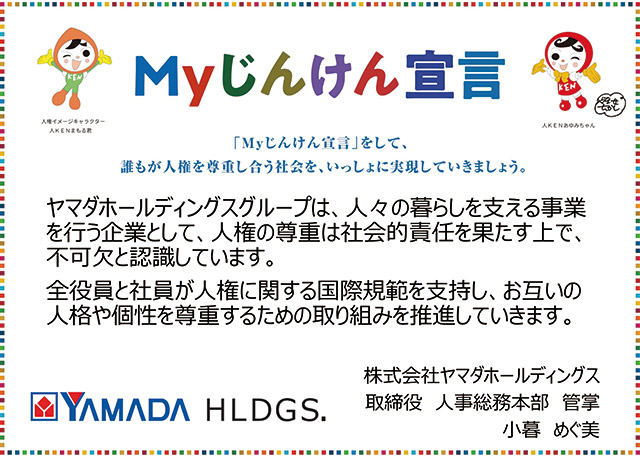 YAMADA HOLDINGS's "My Declaration of Human Rights"