Corporate Governance
Basic Approach
YAMADA HOLDINGS works to clarify management responsibilities, make quick management decisions, maintain and improve corporate value and shareholder value while enhancing management transparency and conducting fair corporate activities.
Corporate Governance System
YAMADA HOLDINGS has adopted an audit & supervisory board system under which the execution of business is supervised and monitored by the Board of Directors and the Audit & Supervisory Board. Additionally, a business operation system by way of each executive officer has been introduced so as to enable quick responses to changes in the business environment by clarifying the functions of management decision making and supervision, and the function of business operations. The system clarifies management responsibilities with each executive officer dedicated to the execution of their duties through each business division, as well as the various committees and subcommittees, structured under an organization in which the Representative Director, Chairperson and President CEO, and two Representative Directors are responsible for their management.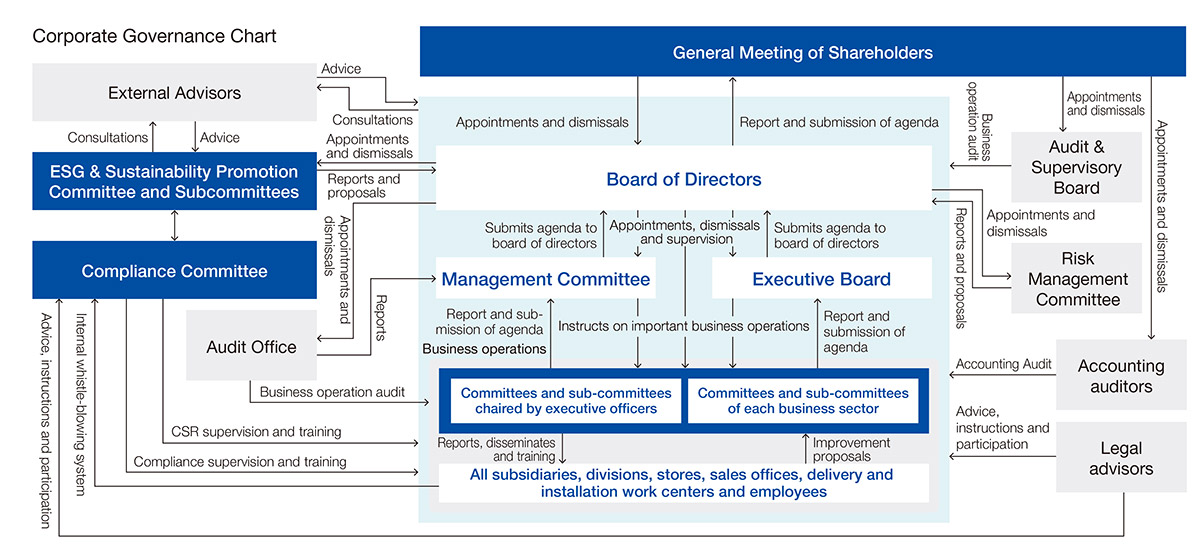 | | |
| --- | --- |
| Board of Directors: | Comprised of 8 directors. The chairperson is the representative director. Regular board meetings are held once a month, and extraordinary board meetings are held when necessary. Discusses and decides important management matters and oversees the progress of business performance. |
| Management Committee: | The Management Committee is held once a month to decide a broad range of management policies and strategies, based on discussions and evaluations of reports and proposals on management policies, strategies, challenges, and business execution. |
| Audit & Supervisory Board: | Comprised of 4 auditors. Each auditor attends meetings of the Board of Directors and all the various committee meetings, and as well as expressing their views in terms of legitimacy and appropriateness, auditors carry out surveys on the status of business operations, and regularly exchange opinions with directors and executive officers. Audits are also carried out to ensure soundness in management in conjunction with the Audit Office and an auditing firm. |
| Audit Office: | The Audit Office, which reports directly to the President, has been set up to enhance internal audits. Nine full-time employees are engaged in internal checks and internal audits, such as routine audits and overseeing inventory work. In addition, auditors and an auditing firm exchange information and actively cooperate with each other to conduct audits from the perspective of whether corporate activities are conducted in an appropriate and efficient manner. |
Corporate Governance System Overview (as of June 29, 2022)
| | |
| --- | --- |
| Main Items | Description |
| Type of organization | Company with corporate Audit & Supervisory Board Members |
| Chairperson of the Board of Directors | Representative Director |
| Number of directors | 8 (of which 2 female) |
| Number of outside directors | 3 (all independent) |
| Number of executive officers | 12 (3 of which concurrently serve as directors) |
| Number of Audit & Supervisory Board Members | 4 |
| Number of outside Audit & Supervisory Board Members | 2 (both independent) |
| Term of directors | 2 years |
| Term of Audit & Supervisory Board Members | 4 years |
Main Committee Meetings (FY2022)
| | | |
| --- | --- | --- |
| Committee | Number of Meetings | Average Attendance of Outside Officers |
| Board of Directors | 21 | 98.8% |
| Audit & Supervisory Board | 12 | 100% |
Assessment of Board's Effectiveness
At YAMADA HOLDINGS, each director carries out a self-evaluation by way of a progress check on the business plan. The effectiveness of the whole Board of Directors is analyzed and assessed based on the views of outside directors and Audit & Supervisory Board members. We will continue to strive to improve the functions of the Board of Directors based on the results of the effectiveness assessments.
Internal Control System
YAMADA HOLDINGS operates an effective governance system by continuously strengthening its compliance, information management and risk management based on the Company's Internal Control System Basic Policy. The Risk Management Committee and Compliance Committee also fully share important matters to members of each department by way of the Compliance Subcommittee, thereby making every effort to strengthen the management system to improve the effectiveness of internal control.
Executive Remuneration
YAMADA HOLDINGS' executive remuneration is determined by the Board of Directors in accordance with regulations and within the total amount of remuneration approved at the general meeting of shareholders, taking into consideration the degree of contribution, the financial situation and the economic climate. Remuneration for outside directors and Audit & Supervisory Board members is fixed in order to maintain proper and effective management supervision.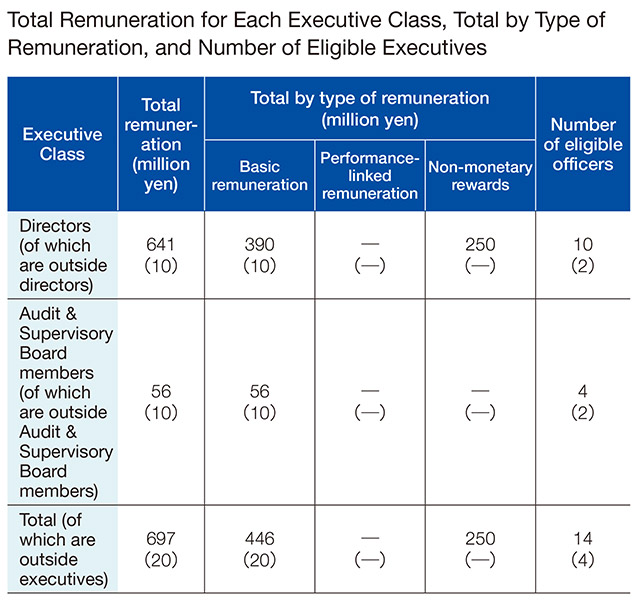 Management Policy Presentation
In January each year, the YAMADA HOLDINGS Group holds a meeting at the YAMADA HOLDINGS headquarters with the participation of executives and representatives from every Group company to present its management policy. Representative directors from YAMADA HOLDINGS present policy for the following fiscal year while each division and Group company gives a review on their respective annual action plans, reports on progress, and presents future goals.