Risk Management
Basic Approach
As well as identifying various risks related to its business activities and implementing appropriate countermeasures, the YAMADA HOLDINGS Group shares necessary information to prevent any risks from materializing.
Promotion System
Every month YAMADA HOLDINGS holds the Risk Management Committee, chaired by the General Manager of the Human Resources and General Affairs Division, to build a risk management system that includes every Group company. The content of discussions from these committee meetings is also reported back to the Board of Directors. The Risk Management Basic Rules have been established as a system for preventing risks and as a means for addressing any risks that have arisen. Each division operates in accordance with these rules.
The Security Committee (held once a month), chaired by the General Manager of the IT Business Division, makes every effort in terms of information security by identifying any information security risks both internally and externally, formulating countermeasures and reporting progress.

Responding to Major Risks in Business Activities
The YAMADA HOLDINGS Group has set out the risks that may have a significant impact on its business results and financial position, and measures to mitigate these risks.
Major Risks and Countermeasures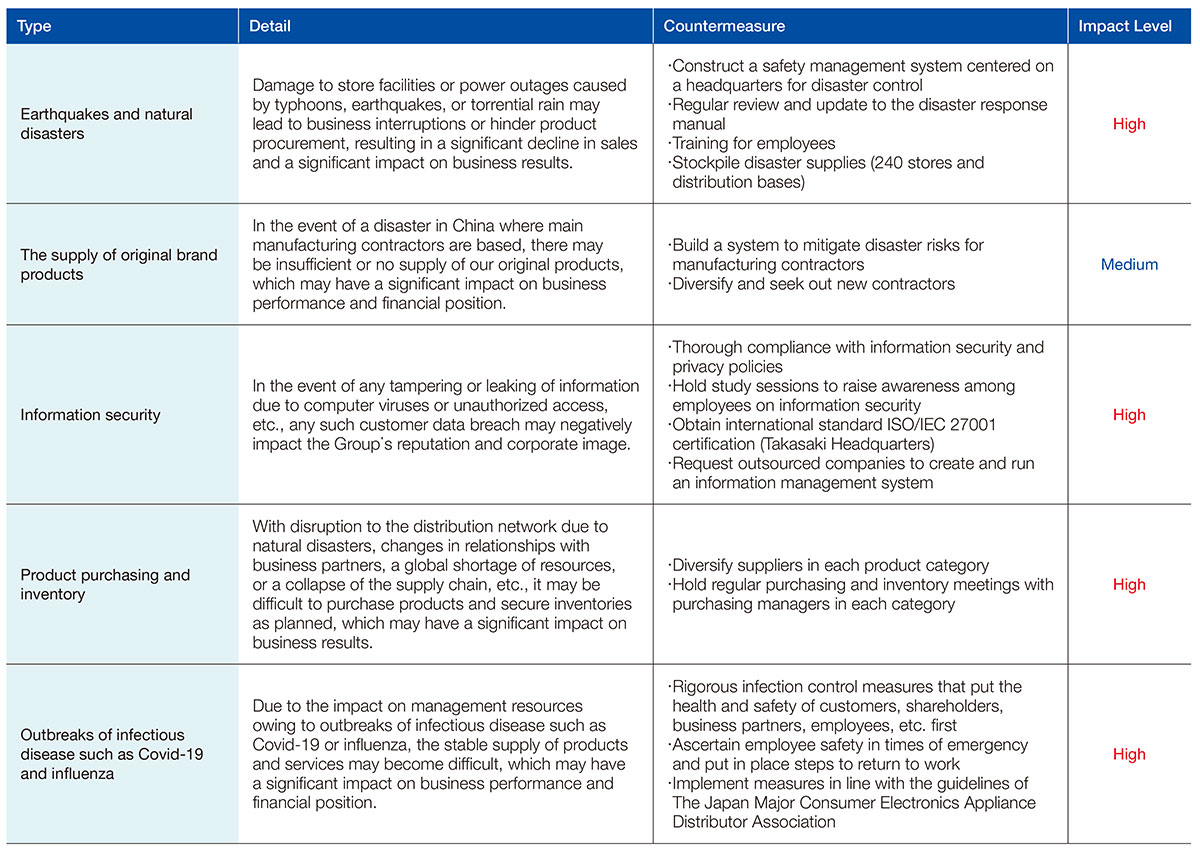 Supply Chain Management
The YAMADA HOLDINGS Group has formulated a trading policy for Group companies and business partners in an effort to strengthen its supply chain management. The Group deals with various suppliers in Japan, including major consumer electronics and furniture manufacturers, household product manufacturers and wholesalers. Many of the manufacturers with which the Group deals with are companies making exceptional efforts. The Group aims to build sound partnerships with its business partners by utilizing knowledge and sharing information on the social responsibilities mutual to both parties in the trading relationship.
Business Partner Questionnaire
Among its emphasis on corporate social responsibility throughout the entire value chain, the YAMADA HOLDINGS Group promotes compliance in areas such as the environment, society, and ethics based on its CSR Code of Ethics. Since the Group's products and services are provided to customers via a number of domestic and foreign corporations, the Group believes that all relevant laws and regulations should be complied with at every stage to ensure products and services are provided in an environmentally, socially and ethically acceptable way. For this reason, a questionnaire survey is conducted once a year targeting major business partners. The results from the responses are collated and analyzed, and hearings or requests for improvement are carried out if any companies are deemed to be high risk.
Please refer to page 71 of the Integrated Report 2022 for the results of the Business Partner Questionnaire Survey for the fiscal year ending March 31, 2022.
As part of efforts to strengthen risk management for the whole supply chain in the YAMADA HOLDINGS Group, the questionnaire survey form has been updated. As a result, the number of target companies has been significantly increased from 105 in fiscal 2021 to 552 in fiscal 2022. A particular focus has been given to significantly increasing the number of Group company business partners to strengthen management of supply chains in Group companies. This was the first time that the questionnaire survey had been updated, and although the response rate was lower than last year, more than half of the surveys had been completed. By continuing with these self-assessment questionnaires, the Group will not only be able to get an understanding of progress based on a comparative analysis with the previous fiscal year, but will also be promoting sustainable procurement by proposing improvement plans and taking corrective measures as necessary.