Securing and Training Human Resources
On its path toward the 'Total-Living' strategy, the YAMADA HOLDINGS Group is striving to secure human resources capable of responding to a wide range of customer needs that comes with a broader spectrum of products and services as well as future expansion into other business areas.
In terms of human resource development and rebuilding the training system to suit the current times when it is difficult to predict the future, the Group has set the theme of development and training for self-starting human resources and a self-starting organization. The Group endeavors to develop human resources who can nurture people and organizations to achieve results as a team, and who can learn and make decisions in a logical way based on experience and information to create more efficient and streamlined operations. The Group seeks to do this by providing training that emphasizes human skills and conceptual skills, in addition to traditional forms of training focused on technical skills (ability to do the work). More specifically, as well as the planned implementation of tiered training, education and training programs will be improved by enhancing specific measures based on employee satisfaction surveys to ensure the Group continuously keeps the very best employees.
Recruiting New Graduates
In April 2021, the YAMADA HOLDINGS Group recruited 599 new graduate students, helping to re-energize the organization. With an increasing range of products and services, such as consumer electronics, furniture and renovations, the Group is working to develop new, young talent along with recruiting human resources who have the ability to meet the wide range of customer needs. Human resources with specialized knowledge, including talent for new businesses and systems aimed at strengthening headquarters operations will continue to be hired in the future.
Employee Appointment System
YAMADA HOLDINGS and YAMADA DENKI have established a system for the appointment of non-fulltime and contracted employees as full-time employees in conjunction with the internal qualification system.
Tiered Training
YAMADA HOLDINGS and YAMADA DENKI are giving tiered training under the banner of "cultivating human resources who can think and act on their own―upgrading our basic OS of awareness and mind".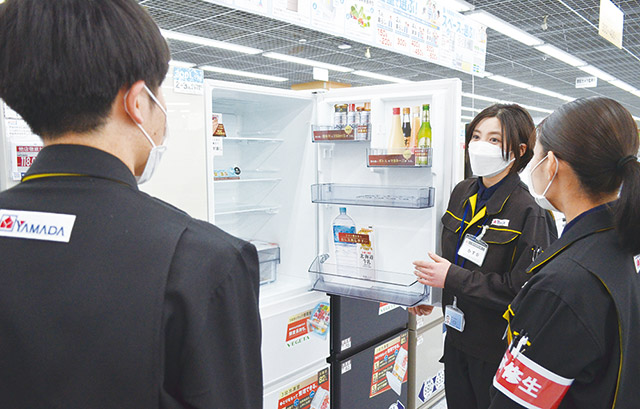 Category
Partners
Members
Lower Management
Middle Management
Top Management
Human Skills
Conceptual Skills
・What is required as a member of society
・Conduct as a member of society
・Basic actions for members of society
・Basic actions for members of society
・Conduct as a member of society
・How to get on with work
・Thinking of the future
・Experience and growth after joining company
・Meeting expectations
・Mentoring junior employees
・Improving problem-solving skills
・Team building
・Avoiding mental blocks
・For further growth
・Skills required for managerial roles
・Business management
・Training management
・Envisioning the future
・Senior management
・Creating management philosophy and vision
・Account management
・Labor management
・Drafting of action plans
・Giving direction
・Decision-making thought processes
・General, social common sense
・Basic abilities for members of society
・Business communication
・General business etiquette
・Boost own motivation
・Compliance knowledge
・Fundamentals of information security
・How to proceed with team work
・Managing motivation as a leader
・Training methods for junior and new employees
・Basic knowledge on harassment
・Assisting superiors and supporting junior employees
・Compliance to be practiced
・Developing team leaders
・Eliminating harassment in the workplace
・Leadership for those in managerial roles
・Managing team motivation
・Legal obligations for senior managers
・Developing those in managerial roles
・Strategic planning points

Technical Skills

・Customer satisfaction
・Compliance
・Mental health
・Good relationships with others
・Basic sales knowledge
・Significance and understanding of sales activities
・Basic knowledge on shopfloor customer service
・Service and hospitality
・Customer service
・Dealing with customers in the service industry
・Psychological customer service techniques that produce repeat customers
・Practical theory to increase average customer spend
・Store manager training
・Marketing theory to increase sales
・Profit management
・Training managers in the area
・Mind training for managers in the area
・Improving customer service in the area
・Improving sales in the area
・Improving employee satisfaction in the area
Yamada Denki foundation, internal regulations and rules, internet literacy, social initiatives
Training for New Employees
New recruits learn the skills needed to be Group employees through the use of such resources as online study sessions and educational tools for learning, as well as acquiring basic knowledge by using the products themselves, and become fully fledged employees after the end of a training period in the workplace.
Developing Next-Generation Leaders
YAMADA HOLDINGS Group are working to develop nextgeneration leaders in all levels of the Company for its sustainable growth. Specifically, YAMADA DENKI is working on the following:
1. To develop leaders, employees participate in crossindustry exchange training to learn the principles of management and improve their leadership capabilities. Content learned is shared with the employee's manager who checks the progress of their efforts.
2. To train new graduates and new employees, senior employees try to improve their skills to help nurture new recruits so they don't have to rely on intuition or experience by learning training techniques and ways to improve motivation, etc.
3. To give top sales staff the capabilities to make proposals that further enhance customer satisfaction, they are provided with learning opportunities, including introductions to ICT and IoT as well as the latest products.
Middle and Top Management Training
The YAMADA HOLDINGS Group conducts tiered-based middle and top management training at the Soseijuku employee training center for employees at the section manager level or above, for sales managers and store managers, and for employees at operating companies at the general manager level or above. Under the theme of developing self-starting human resources and a self-starting organization, external instructors are invited to provide mind training and strengthen team building and management skills. There is also a focus on cross-border training through group discussions with other departments and other operating companies. The purpose of this training is also to educate top management who will lead the next generation of the Group, including the acquisition of managerial perspectives. The YAMADA HOLDINGS Group will continue to enhance and expand its training programs.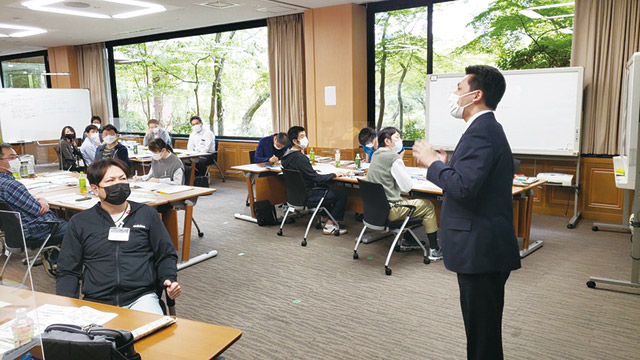 Developing Sales Engineers
YAMADA DENKI is strengthening the training of its sales engineers who handle everything from product sales to delivery and installation work. The aim is to make customers' lives more comfortable by developing sales engineers into technicians and advisors who can recommend everything from home appliances and furniture to interiors and home renovations at times when there are an increased number of deliveries and installations such as during the summer, New Year holidays and fiscal year-end.
As part of the sales engineers' development, practical training is being given on installation work for air conditioners, etc. As well as further recruitment from industrial high schools, we are also focusing on training female sales engineers.
Based on an annual training plan, we are working to raise the level of the entire profession of sales engineers by encouraging them to gain qualifications through such things as regular training sessions by professional engineers who hold a Second Class Electric Works Specialist's license.
Gaining External Qualifications
When customers purchase home appliances, employees need to have the relevant expertise in order to provide appropriate advice on such things as how the product works, what it can do, when to use it, where to install it, and other preferences. YAMADA DENKI has been focusing on encouraging employees to get externally qualified as Home Appliance Advisors*1 or as Smart Masters*2. This has resulted in more and more qualified employees. The Company has also been actively encouraging employees to gain external qualifications, such as certified sellers, architects, or as interior stylists, as these skills are a necessary part of being able to provide proposals on furniture and renovations. The acquisition of external qualifications is not only for the purpose of maintaining and improving employees' job satisfaction, but also leads to improved customer satisfaction, which is why we are strengthening our efforts throughout the Group.
*1 A qualification for professionals in sales and customer service of home appliances, giving accurate advice for customers on product selection, use, and troubleshooting.
*2 A qualification related to smart houses, giving a wide understanding of homes, home appliances, housing equipment, and energy management, to support the construction of smart houses that meet customers' needs.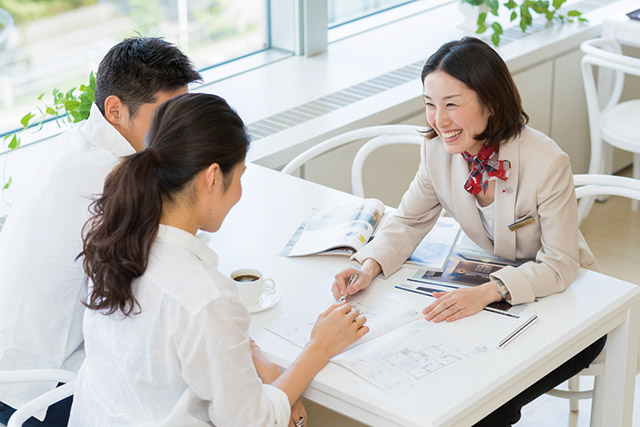 Number of Qualified Employees* (as of March 31 each fiscal year)
| | | | |
| --- | --- | --- | --- |
| Qualification | FY2020 | FY2021 | FY2022 |
| Home Appliance Advisor | 8,295 | 8,408 | 8,956 |
| Smart Master | 1,068 | 1,146 | 1,274 |
| Photo Master | - | 1,663 | 1,679 |
| Certified Sellers (1st to 3rd Grade) | - | 1,251 | 1,268 |
| First Class Architect | - | 184 | 227 |
| Second Class Architect | - | 659 | 727 |
| First Class Building Operation and Management Engineer | - | 148 | 178 |
| Second Class Building Operation and Management Engineer | - | 125 | 154 |
| Real Estate Notary | - | 534 | 580 |
| Sleep Advisor | - | 491 | 595 |
| Interior Stylist | - | 180 | 190 |
| Second Class Electric Works Specialist | - | - | 627 |
| Second Grade Certified Skilled Professional of Financial Planning | - | - | 203 |
| Total | 9,363 | 14,789 | 16,658 |
* Total number within the YAMADA HOLDINGS Group