Diversity, Equity & Inclusion
The greatest management resource for the YAMADA HOLDINGS Group is its human resources. Positioning diversity, equity and inclusion as part of the Group's growth strategy will help to create a workplace environment where diverse human resources can play an active role. Human resources nurtured in such a work environment will work hard together, and by continuing to create valuable products and services will grow sustainably together with the Group's stakeholders.
YAMADA HOLDINGS' Initiatives
Type
Description
Work-life balance support
・Establishment of a flexible work system tailored to the stages in employee's lives and promotion of diverse work styles
Active participation of women
・Creating an environment that responds to changes in the stages of women's lives and helps them to play active roles in conjunction with work-life balance support
・ Promoting the elimination of gender roles based on a code of conduct for gender equality
・ Actively strengthen recruitment, develop nextgeneration executives, promote more women to managerial roles, and support for gaining more skills
Active participation of people with disabilities
・Realization of an inclusive society through active employment
Active participation of senior human resources
・Extension of retirement age to 63 years old (system revised in April 2022), continuation of career-based work
Active participation of global human resources
・Continuing with the active employment of foreign nationals
Understanding of LGBTQ+ issues
・Promoting understanding of LGBTQ+ issues and eliminating unconscious bias through training
・Creating a workplace that ensures mental wellbeing where diverse personalities work together with respect for each other
Supporting the Success of Women in the Workplace
The YAMADA HOLDINGS Group recognizes that creating an environment in which all female employees can pursue their private lives while simultaneously advancing their careers based on their own intentions and desires is the foundation for further corporate growth. As such, the Group has established and is promoting a success for women action plan in line with the Act of Promotion of Women's Participation and Advancement in the Workplace which came into force in April 2016. Based on this action plan, the Group has set a target of at least 10% of female employees to be promoted to managerial positions. As of the end of March 2022, 8% of all female employees have been promoted into managerial roles. Following the appointment of our first female director in the fiscal year ended March 2019, one more was appointed in June 2020 bringing the total number to two. The Group will continue to promote initiatives such as improving the workplace environment so that more women can play active roles in the Company.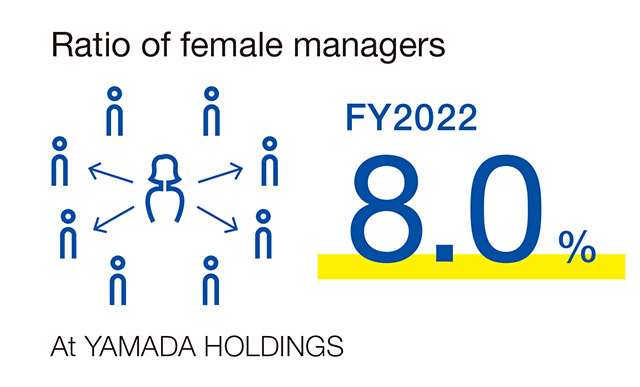 Appointing Foreign Employees
The YAMADA HOLDINGS Group has been working on recruiting foreign nationals so as to strengthen its ability to assist the many different customers who visit its stores. The Company places importance on recruiting whatever the nationality without setting any particular criteria for recruitment. YAMADA HOLDINGS will continue to secure the most talented employees while diversifying its human resources within the Company.
Employing People with Disabilities
The Company is therefore striving to create an environment where all employees with disabilities can work with peace of mind.
Reemployment System for Retirees
The retirement age for employees at YAMADA HOLDINGS is 63 years-old but the Company has introduced a reemployment system that allows employees to work up to the age of 75. Senior talent with sophisticated skills and knowledge are playing an active role by helping to lead other employees.